► ONLINE WELL TRACKING AND PREPAID IRRIGATION MANAGEMENT SYSTEM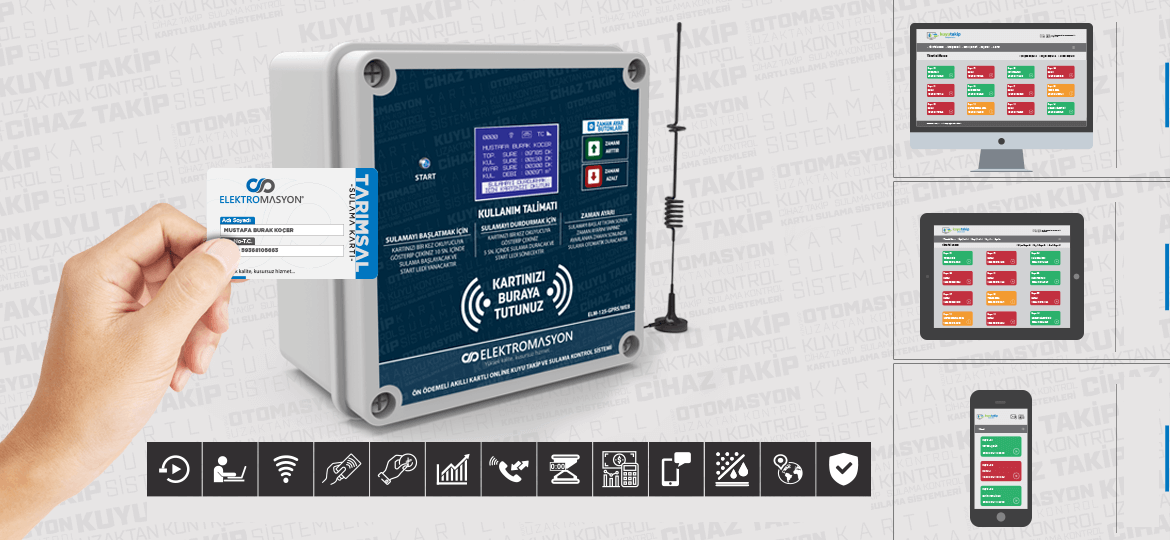 System Properties
System is commissioned after installing a device to each well.
A card is given to each member of irrigation cooperatives or associations in card well management system, amounts which are demanded by user is charged to these cards in return of cash payment and users can use water as much as they charged.
Irrigation cooperatives or associations can access to motor failure information, thermal protection failure information, alarm information and other requested warning information by Card well management system(Access to electricity and water consumption data is optional).
All wells can be switched on and oof by accessing to system over kuyutakip.com, user information can be accessed and remaining balance, used amount and all information on user can be monitored instantly.
Individual user authorization can be defined for each well.
Collection problem is eliminated with this system and retroactive receivables are collected immediately.
Personnel does not have to visit wells periodically due to data transfer system which is present in system. This feature reduces time and personnel costs significantly.
Irrigation is stopped automatically at the end of amount which is set by user by means of timing unit which is present in system.
Lost or stolen cards can be deleted from system and all data can be loaded to new card reliably without losing any data.
All historical and accounting data can be reported by means of advanced reporting and analysis feature of the system.
Failure notification is communicated to user and organization officials instantly by means of SMS application within system also SMS application can be used for collective messages and member informing can be made by this manner.
Current information of all members can be accessed at any desired time by means of online accounting within system and accrual operations for the end of year can be extracted easily.
---
Technical Specifications
Product Code: ELM-125-WEB
Operating Voltage: 220-380 VAC
Protection Class: IP-67
Digital I/O: 4 IN / 1 OUT
Communication: RS-232 / RS-485
Display: 128x64 GRAPHIC LCD
Connection: GSM 4.5G / 3G / 2G / GPRS
Operating Temperature: -40 °C / +85 °C
Operating Frequency: Dual Band 900-1800 Mhz
Dimensions: 200x200x130mm