► WIRELESS WELL TANK CONTROL AND LEVEL MONITORING SYSTEM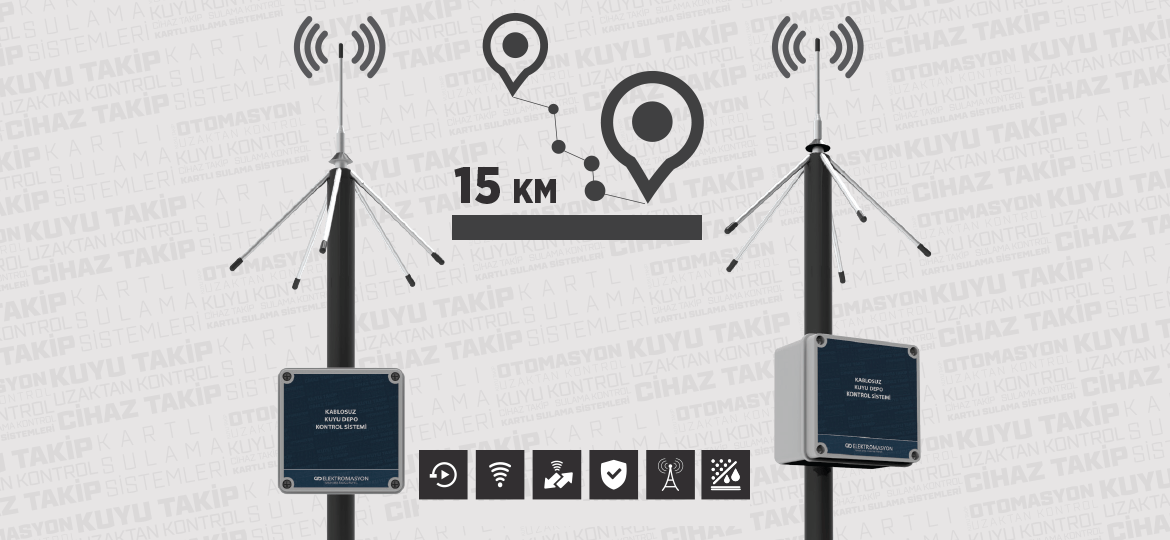 System Properties
Wireless well tank control submersible pump control RF link systems communicates up to 15 km distance between pump and water tank and maintains controlled and automatic water filling.
It does not require PLC or CPU and it is a plug and play automation system in set.
You can maintain a complete communication automation between pump unit and water tank, pumping tank and pump.
System consists of tank and pump unit. Devices are suitable for indoor unit assembly and antennas are suitable for outdoor unit assembly.
There are two liquid level relay input or float valve input at tank side. There are 2 relay outputs at pump side. Pump contactors are driven by changing phase from relay outputs. Inputs and outputs can be increased up to 4 channel. For example it provides 4 level tank pump control. Or it may put or take out 4 motors of service according to four level.
System, tank and pump units have RSSI signal level quality display, battery display for equipment with battery, float valve active or passive status displays, relay output indicators, energy is present not present running status indicators and similar units. Transmitter unit can be added for accessing the locations where communication is more faraway.
System is present inside empty abs boxes which have IP 67 protection class against water splashes and it has transparent cover for monitoring status and display information which appear in system. These boxes are mounted over 2 mm galvanize steels sheet accordingly with surface mounting. They have gland outlets for cable connections and they have durability against certain impacts.
They are set together with outdoor abs antennas with 5 dBi outdoor unit assembly, power supply adapter/battery. Antenna cables have length between 2.5-2.7 m and they are rg-58 model. Connectors were mounted over cable ends. They are in set and ready as they are plug and play.
System is divided into two groups as energy ON and OFF in water tank side. Model with Energy at tank side serves by operating with mains network. Model which does not have power at tank side is operated with single maintenance free 12V 7A dry battery at tank side.
Tank unit batter does not require charging by using solar energy panel and may transmit actions of float valve or liquid level relay to pump side for two years without any problem. Solar energy problem is an advanced technology which relieves you from breakage and robbery problems.
---
Technical Specifications
Product Code: ELM-445-RF
Operating Voltage: 220 VAC / 12 VDC
Protection Class: IP-67
Connection: RF
Operating Temperature: -20 °C / +70 °C
Operating Frequency: 433-434-868-915 Mhz