► REMOTE CONTROL SYSTEM WITH GSM MODULE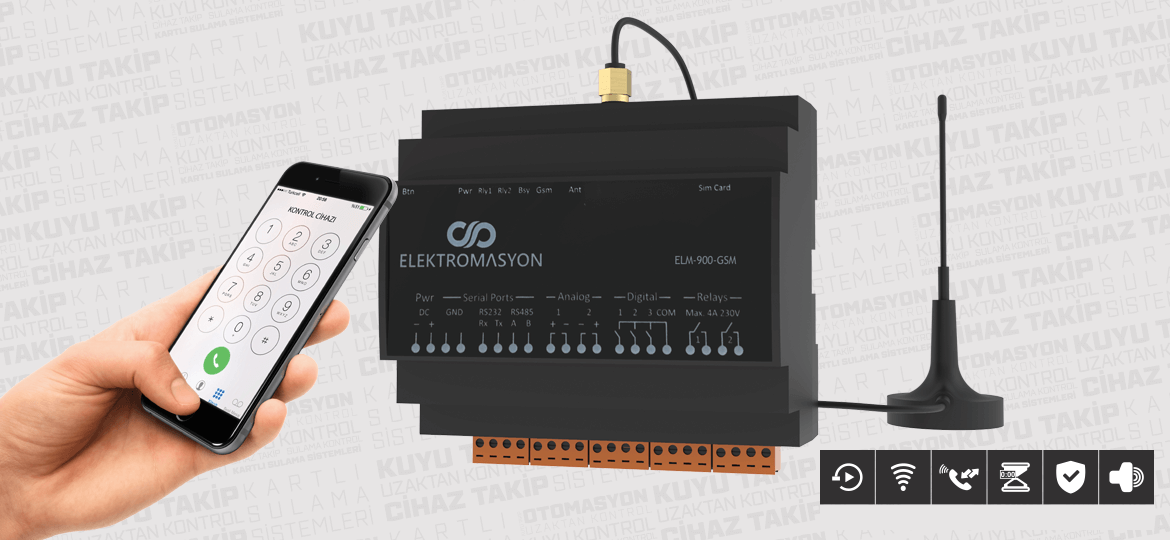 System Properties
It is device which allows you to control relay over GSM and gives alarm by SMS or alarm when there is change in inputs.
You can get information by SMS or call depending on changes in input statuses.
It allows you to control relay and see input statuses by sending SMS or making call through audio response unit.
Also it may send SMS to you for your defined alarm statuses or make a call and make audio notification.
There are 2 relay outputs, 1 4-20 mA sensor input 1 NTC Temperature sensor input 3 digital voltage free contacts over device.
You may define alarm statuses according to changes in status of inputs, when alarms occur device may send SMS or make call to defined numbers in addition that it may perform operations.
There is internal microphone over device. Thereby you can listen sound of motor, machine and similar equipment which emits sound to environment and learn whether they are working.
Device does not require extra GSM modem. You can do all operations by calling no of SIM card which you will install in equipment or by sending SMS.
All configuration and control of device can be made by SMS.
Device is a plug and play product which can be started to be used by installing sim card.
---
Technical Specifications
Product Code: ELM-900-GSM
Operating Voltage: 12-24 VDC
Protection Class: IP-54
Number Of Relays: 2 Piece (5A 277V AC / 3A 30V DC)
Digital Input: 3 Piece (Voltage Free Contact)
Analog Input: 1 Piece 4-20mA
Temperature Input: 1 Piece 10K NTC
Communication: RS-232 / RS-485
Connection: GSM 4.5G / 3G / 2G / GPRS
Operating Temperature: -20 °C / +70 °C
Operating Frequency: Dual Band 900-1800 Mhz
Dimensions: 105x91x60mm