► SULAMATİX CREDIT CHARGING KIOSKS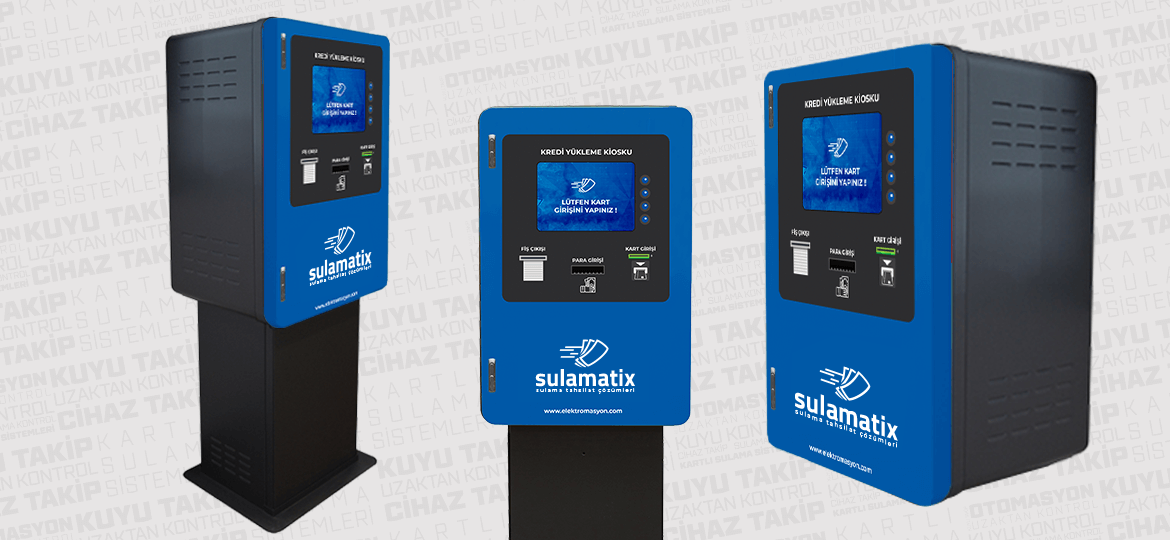 System Properties
Sulamatix kiosks were developed for maintain cooperative and associations to make collection without requiring any personnel.
Sulamatix is already adapted to prepaid well tracking systems and they are operated in coordination with these systems.
Users can implement their operations easily by simple interface.
Worldwide developed state of art security precautions are used in sulamatix kiosks.
Whether you are user or management oriented, kiosks will always be address of easy collection.
Sulamatix kiosks has user friendly interface which be used by users who are not good with computer in addition to their rock like structure.
Sulamatix can be configured according to customer requirements in addition to their standard features.
Save for these aspects, users do not need assistance of any personnel while realizing their operations with any desired amount.
Most of sulamatix payment kiosk models have contact free card readers, slip printers, components which accept banknote and other complex mechanical systems which present diversity in payment forms.
Sulamatix minimizes time for operation and accessing the information and perform many operations simultaneously.
Internationally tested products are used in all sulamatix kiosk products.
Many feature can be added to kiosks according to requests and requirements of customers.
Our experienced technical department assists you for determining your required kiosks and provide any kind of support for implementing operations made over kiosks excellently.
---
Technical Specifications
Product Code: ELM-ATM-SULAMATİX
Operating Voltage: 220 VAC
Protection Class: IP-67 Indoor / IP-68 Outdoor
Display: 15" / 17" / 18,5" / 21,5" LED Monitor
Money Case: 500 / 1000 Banknote Capacity
Card Reader: 13.56 Mhz / 125 Khz
Printer: Thermal / Dot Matrix
Internal Modules: Gsm Modem / Security Information System
Operating Temperature: -40 °C / +85 °C