► WOLF METER PREPAID DIGITAL WATER METERS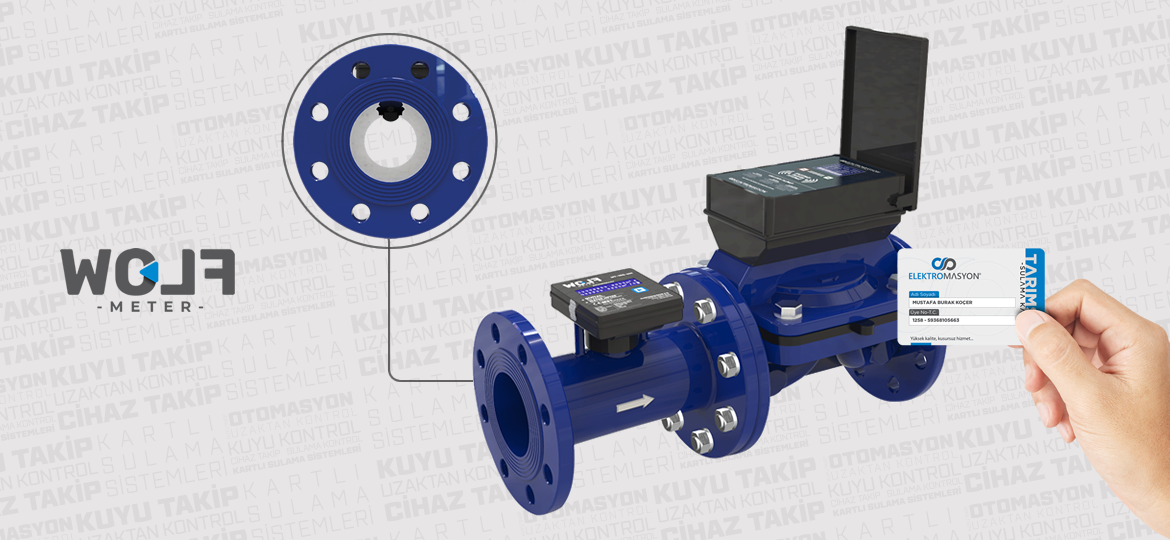 System Features
The system is activated by installing a prepaid irrigation meter on each hydrant.
By distributing smart cards to the users, it is ensured that the meters operate with prepaid credits.
Each user is given a card, users can load these cards as much as they want with cash and use as much water as they load.
When the user goes to the counter and reads the card to start irrigation, it takes 5 seconds. inside the valve is opened.
Work and balance information can be followed on the screen.
With the amount adjustment unit in the system, irrigation is completed at the end of the amount set by the user.
User information can be easily seen, reported and stored in the computer software.
You can easily charge a unit price in m³ via the computer software.
Thanks to the memory on the prepayment unit, 1400 historical usage reports can be monitored.
All equipment related to the system is designed industrially and produced specially.
The prepayment meter unit works uninterruptedly without any need for energy and maintenance, except for its own battery.
---
General Features
MID (Measuring Instrument Directive) certified
Turbine agricultural type
Digital display
7 digit total m³ display
Instant flow rate indicator
Flow indicator in forward and reverse direction
Metal / GGG-40 ductile iron body
No filter required
Environmental protection class IP65
Electrostatic e/p inner and outer powder coated body
For cold water up to 50ºC
Pulse output (Optional)
10 years of spare parts and service
2 years warranty
Teknik Özellikleri
| | | | WT-50-WM | WT-65-WM | WT-80-WM | WT-100-WM |
| --- | --- | --- | --- | --- | --- | --- |
| MAXIMUM FLOW | Q4 | m³/h | 31,250 | 50 | 78,750 | 125 |
| NOMINAL FLOW | Q3 | m³/h | 25 | 40 | 63 | 100 |
| TRANSITION FLOW | Q2 | l/h | 0.400 | 0.640 | 1.008 | 1.600 |
| MINIMUM FLOW | Q1 | l/h | 0.250 | 0.400 | 0.630 | 1.000 |
| MAXIMUM WORKING PRESSURE | P Max. | Bar | 16 | 16 | 16 | 16 |
| PRESSURE DROP (MAX. Q3) | ΔP | Bar | 0.10 | 0.10 | 0.10 | 0.10 |
| MAXIMUM WATER TEMPERATURE | T Max. | °C | 50 | 50 | 50 | 50 |
| MAXIMUM WORKING TEMPERATURE | - | °C | -55/+85 | -55/+85 | -55/+85 | -55/+85 |
| MEASURING RANGE | Q3/Q1 | R | 100 | 100 | 100 | 100 |
| ACCURACY CLASS | CLASS | - | 2 | 2 | 2 | 2 |
| MAXIMUM RECORDING CAPACITY | - | m³ | 9.999.999 | 9.999.999 | 9.999.999 | 9.999.999 |
| CONTROL SCALE RANGE | - | m³ | 0.001 | 0.001 | 0.001 | 0.001 |
| TOTAL WATER METER LENGTH | L | mm | 200 | 200 | 225 | 250 |
| TOTAL WATER METER HEIGHT | H | mm | 175 | 195 | 210 | 230 |
| INSTALLATION PIPE NOMINATED DIAMETER | DN | mm | 50 | 65 | 80 | 100 |
| CENTER LINE HEIGHT | D | mm | 165 | 185 | 200 | 220 |
| BATTERY LIFE | YEAR | - | 10 | 10 | 10 | 10 |
| PROTECTION CLASS | IP | - | 65 | 65 | 65 | 65 |